Village Election – March 15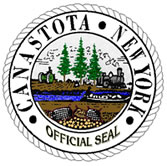 LEGAL NOTICE
GENERAL VILLAGE ELECTION
VILLAGE OF CANASTOTA
TUESDAY, MARCH 15, 2022
POLLS OPEN: NOON UNTIL 9:00 P.M.
There will be a General Village Election held in the Village of Canastota on March 15, 2022. The voting will take place between the hours of Noon and 9 p.m.
The Village has one polling place, located in the courtroom in the basement of the Municipal Building at 205 South Peterboro Street, Canastota, New York.
The positions to be voted on are Village Trustee, two seats, for four-year terms and Village Justice, one seat for four-year term.
The names and addresses of the candidates are as follows:
Village Trustee – Vote For Any Two (2)
William M. Haddad
107 Douglas Heights Drive
Canastota, NY 13032
Lorraine A. Torrey
17 Palamara Avenue
Canastota, NY 13032
Village Justice – Vote For Any One (1)
Peter M. Finocchiaro
3557 Seneca Turnpike
Canastota, NY 13032
Submitted by:
Catherine E. Williams
Clerk/Treasurer
Village of Canastota