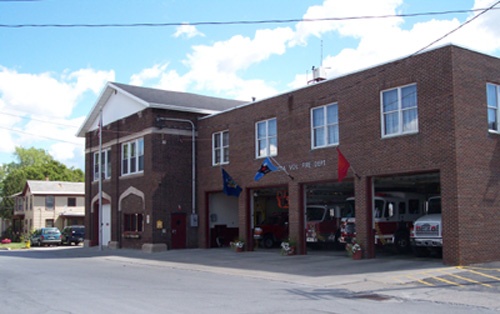 The Canastota Fire Department is comprised of one company, with a roster of up to 90 active volunteer firefighters.
The Fire Company has its own meetings and a council consisting of a President, Treasurer, Secretary and line officers. The council manages the Fire Company, and is tasked with overseeing all aspects of the Company.
The line officers – Captains and Lieutenants who are elected by the Company – are in charge of emergency incidents. The Department has three Chiefs who report to the Board of Trustees. The Fire Chief position serves a two-year term.
About our trucks:
127 is a 2017 Sutphen SL 75 ft ladder truck. This truck carries 6 firefighters, 470 gallons of water and 30 gallons of class A foam. It is equipped with LED scene lighting and various other tools. 127 is the first due to all structure fires in the Village and Town where a hydrant is present. This truck was received utilizing an AFG grant saving thousands f dollars to Village and Town tax payers
126 is a 2008 International Seagrave Tanker. This truck holds 2,000 gallons of water and 2 firefighters. This truck has a portable gas powered pump and a large diameter supply hose, as well as 1 3/4 hand lines. This truck is 2nd due to all structure fires in our district where a hydrant is not present and it also responds to all outdoor fires as well as mutual aid requests. This truck was purchased also utilizing a grant saving our tax payers thousands of dollars
125 is a 2003 American LaFrance Rescue Truck. This truck has room for 8 firefighters and also carries Hurst tools for Auto Extrication, airbags, and a light tower cascade system to refill air bottles. This truck is 2nd due to auto accidents and also responds to fires and various other incidents
125-1 serves as our departments mini rescue. It is 1st due to all EMS calls in our district and carries an AED and other various EMS equipment. It also has flairs and emergency road signs, as it also responds to pole and wire calls, as well as traffic control.
124 is a 1998 American LaFrance Pumper. This truck carries a crew of eight firefighters, 1,000 gallons of water, 1,000 feet of supply hose, and 30 gallons of Class A Foam.
Engine 122 is a 1979 Ford Darly Front Mount Pumper. This engine carries a crew of three firefighters and 1,000 feet of supply hose. This apparatus responds to all brush/outdoor fires, as well as pole and wire calls.
Engine 121 is a 2010 Pierce Impel Rescue Pumper that carries a crew of six. It has a 1500 gpm pump, carries Hurst Extrication equipment and is first due to all auto accidents.
Are you interested in becoming a member? Fill out the application and start!
Our Fire Department pole barn and the upstairs meeting hall of the fire house are available to the community for rent. Fill out the form below and contact the department for information on availability.