Canastota Canal Town Museum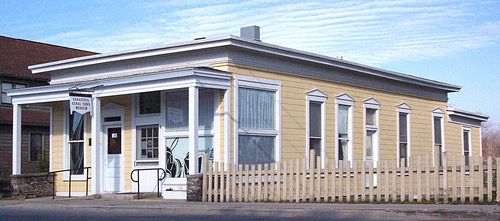 Once a bakery and residence of the 19th century, the museum offers a history of the "Old Erie Canal" and brings to life local folklore and history. Located beside a remnant of the original Erie Canal, the museum is filled with authentic memorabilia, art, and other exhibits explaining Canastota's contributions to the canal, business, industry and agriculture.
Exhibit Highlights:
– Outdoor National Park Service Wayside Exhibit
– Canal Engineering & Canastota's Nathan Roberts
– Life Along the Canal
– Canastota's Lift Bridge
– Birthplace of the American Microscope Industry
– Frederick R. Spencer, the 19th Century Portrait Artist
– Ideal Cut Glass (Canastota Cut Glass)
– Early Movie and Projection Film Industry
– Canastota's Mucklands
– Watson Dump Wagon History
– History of Canastota's Energy Sources
– Erie Canal and Canastota's Industry & Commerce
– Amelia Earhart & Canastota's Airport Opening of 1928
Location:
122 Canal Street, Canastota, NY 13032
Take Thruway Exit 34 or turn north onto Peterboro Street from Route 5.
Phone: Call 315-697-5002 to leave a message at the Canal Town Education Center

Museum Hours:
May and June: 12:00 p.m. – 3:00 p.m.
July and August: 11:00 a.m. – 3:00 p.m.
September and October: 12:00 p.m. – 3:00 p.m.
Closed Sundays and Mondays

Admission: $3.00 per person
Free to ages 12 and younger

Group tours available by appointment
Fore more information visit Canastota-Canal.com