Overdose alert program comes to Madison County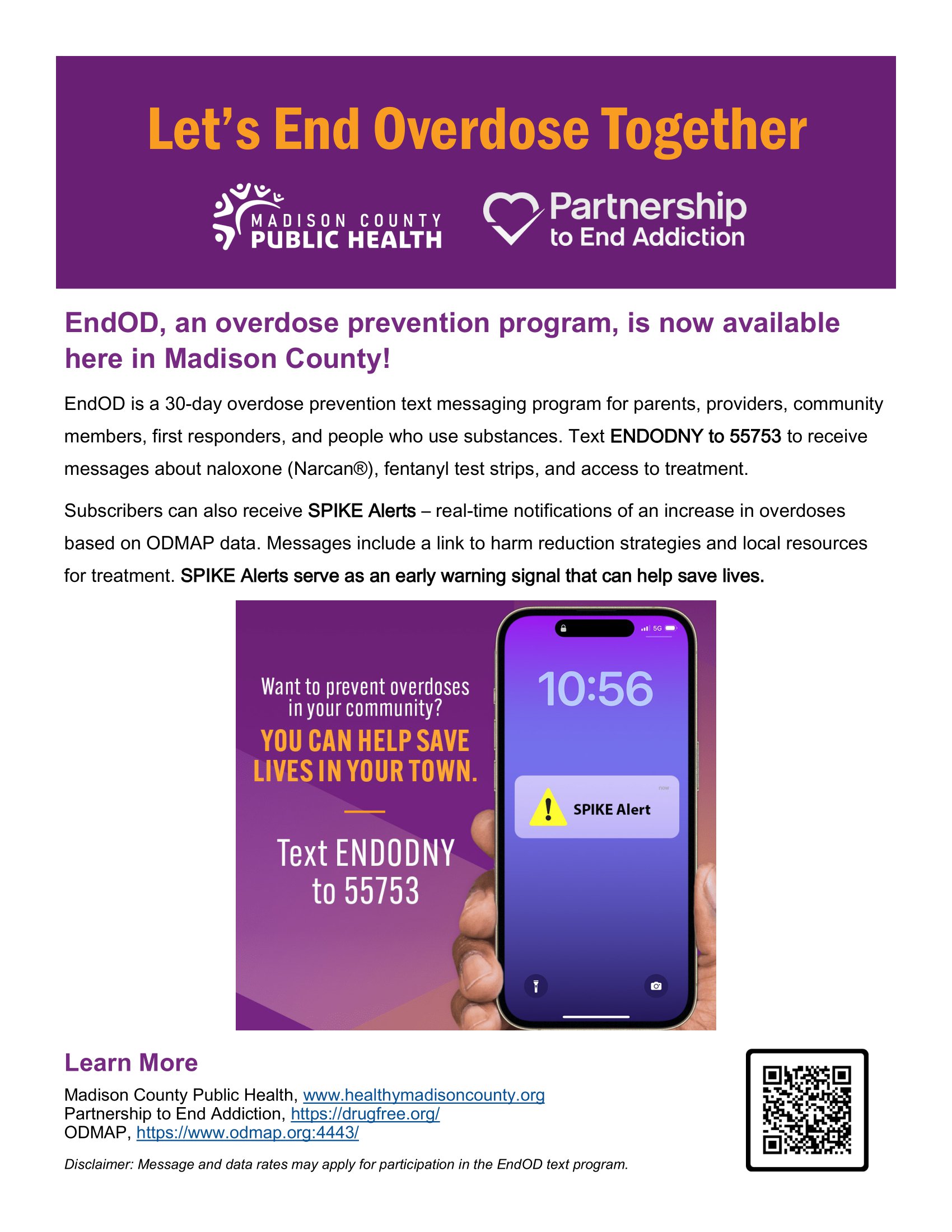 Wampsville, NY – EndOD – a national overdose prevention program – is now available here in Madison County, thanks to a partnership between Madison County Public Health and Partnership to End Addiction. EndOD is a 30-day overdose prevention text messaging program for parents, providers, community members, first responders, and people who use substances.
Anyone can sign up by texting ENDODNY to 55753. Once enrolled, they receive overdose prevention messages that cover topics such as naloxone (Narcan®), fentanyl test strips, and access to treatment. EndOD subscribers can also receive SPIKE Alerts. The program uses ODMAP data to provide real-time notifications of an increase in overdoses. SPIKE Alert messages provide a link to more information on harm reduction strategies and local resources for treatment/recovery. These alerts serve as an early warning signal that can help to save lives.
Although Madison County is a rural community, it too experiences the negative impact of substance abuse, similar to larger surrounding communities. The number of opioid-related overdose deaths has significantly increased from 4 in 2019 up to 14 in 2021. In 2022, naloxone was reported to be administered 66 times; that number is up from 28 doses administered in 2019.
"In 2022, the Community Health Assessment showed that Madison County residents experience higher rates of mental health and substance use outcomes compared to the New York State average. Working with Partnership to End Addiction to bring EndOD to Madison County is part of our plan to improve the overall health of our community," said Eric Faisst, Director of Public Health for Madison County. "The goal of EndOD is to prevent overdose deaths by empowering people who use substances and their loved ones with the knowledge of contaminated drugs, resources to reduce harm, and options for treatment."
If you or someone you love is at risk for overdose, please visit the Madison County website for more information: https://www.madisoncounty.ny.gov/2960/Overdose-SPIKE-Alert.
If your agency or business is interested in applying for a free Narcan® emergency box, please fill out this form: https://forms.gle/NePhzi3tfVHXWDN18. Training and Narcan® nasal spray will be provided free to the organization by BRiDGES (Madison County Council on Alcoholism and Substance Abuse Inc.).
News release courtesy Madison County Department of Health