Job vacancy: Police Officer (part-time)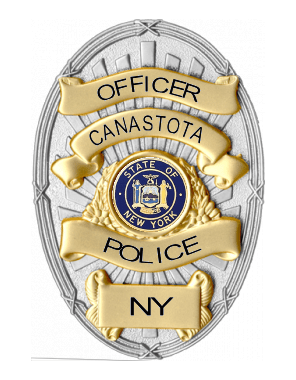 The Canastota Police Department is currently accepting applications for the position of part-time police officer. Anyone with current certification who is interested in applying can call (315) 697-2240 or email village@canastota.com.
Here is more information on the position, courtesy the Madison County Department of Personnel/Civil Service:
POLICE OFFICER
DISTINGUISHING FEATURES OF THE CLASS: The work involves responsibility for the enforcement of laws, ordinances and protection of lives and property in an assigned area during a specified period. These duties consist primarily of routine patrol tasks, assisting in investigation of criminal offenses and the apprehension of criminals. Ordinarily, a police officer, whether on patrol work or on special assignment works under the general supervision or direction of a higher ranking officer. However, there is considerable independent responsibility for exercise of sound judgment in emergencies. The incumbent does related work as required.
TYPICAL WORK ACTIVITIES:
Patrols an assigned area on foot, on a motorcycle or in a radio cruising car;
Watches, safeguards and protects homes and business against fire, theft and/or other catastrophes;
May maintain regular property checks on all businesses, during operation and upon daily closing and where applicable, residential properties;
Checks doors and windows of unoccupied business and residential property;
Investigates suspicious activities and makes arrests for violations of federal and state laws and local ordinances;
Generates timely reports, where applicable, on any complaint or alleged law violation;
Escorts prisoners to jail and to court and has them booked on charges;
Investigates cases involving neglected, abused or delinquent children;
Watches for and makes investigations of wanted and missing persons and stolen cars and property;
Directs traffic and marks cars for overtime parking;
Maintains order in crowds and attends parades and other public gatherings;
Answers questions for and directs the public;
Broadcasts radio messages;
Makes criminal and plain clothes investigations as assigned;
Makes regular reports of activities.
REQUIRED KNOWLEDGES, SKILLS AND ABILITIES: Thorough knowledge of the use of weapons and their capabilities; thorough knowledge of the geography, buildings and the community in the patrol area; working knowledge of modern principles, practices and techniques of police work; good knowledge of what constitutes and how to safe guard and process evidence; good knowledge of Penal Law, Vehicle and Traffic Law, Criminal Procedure Law, Alcohol Beverage Control Law and local rules, regulations and ordinances; working knowledge of Motor Vehicle accident report forms, vehicle and traffic documents, arrest forms and identification documents; working knowledge of investigative techniques; working knowledge of legal terminology; skill in the use of weapons; skill in the application of self defense techniques; ability to learn and adhere to prescribed procedures; ability to read, understand and carry out complex oral and written directions; ability to properly operate a patrol car and radio equipment; ability to recognize potential weapons; ability to deal with people under stress; ability to interact with the public in a manner that is humanitarian and professional; ability to notice things in a person's conduct indicating something may be wrong; ability to assess extent of physical injury; ability to apply first aid; ability to acquire skill in the use of special equipment including police radar and breathalyzers; good powers of observation; sound judgment; good moral character; physical condition commensurate with the demands of the position.
MINIMUM QUALIFICATIONS: Graduation from high school, or possession of a high school equivalency or comparable diploma as described in Section 58 of the Civil Service Law. Must possess New York State police officer certification.
SPECIAL REQUIREMENTS:
Possession of a valid NYS Drivers license at the time of appointment and maintenance of said license for the duration of appointment.
In order to be eligible for appointment, candidates must meet all current requirements of Section 58 of the Civil Service Law.
United States citizenship is required.